Prof. Daniel Scott Snelson: danny.snelson@gmail.com | http://dss-edit.com
Course URL: http://dsnelson.bol.ucla.edu/~elit/2017.html
Wiki: http://dss-edit.com/elit/wiki
UCLA, Fall Quarter 2017
Room: Royce Hall 160 | Meeting Times: TuTh 2:00–3:50
Office: 203 Humanities | Office Hours: TuTh 4:00–5:00
| | |
| --- | --- |
| Abstract | We might begin by asking, what is not electronic literature today? Rather than introduce electronic literature or "e-lit" as a distinct literary category, this course wonders if it's still possible to consider literature beyond the electronic circuits that characterize the networked present. The creation and study of literature today is facilitated by a range of digital formats and networked consoles, each of which introduce new practices of production, circulation, reception, and reading. Alongside these transformations, we'll explore a range of new literary genres inhabiting, for example, computer scripts, image macros, flash movies, social media, bandcamp releases, interactive applications, and print on demand books. Thinking through the present, this introduction examines the history and future of literature through the everyday experience of computers and electronic devices. From the history of digital poetics to recent internet publications, we'll track the development of literature under the influence of computation up to works published in the present, as they emerge throughout the quarter. In lockstep, the course considers the category of "electronic literature" as a way to think about historical works remediated to the internet, in a wide range of (post-)digital formats. The course requires short weekly responses in an open format, as well as a mid-term and final assignment, which may be critical or creative in form, developed in conversation with the instructor. No previous experience in programming, poetry, or literature is required. |
As a general outline for the course, take note that these are broad strokes entirely subject to change. Each week will build on previous weeks. The most up-to-date reading, writing, and input assignments will be updated to this document on Mondays. The syllabus will only be completed after we finish the course, and all works (including your own) have been collected.

In an effort to actively engage historical internet vernaculars, we will use a new Media Wiki for weekly responses. Rather than make a functional wiki of "Electronic Literature," this collective project will seek to produce the forking paths of electronic literature itself. New pages, with a minimum of 200 words, are due Mondays at 11:59pm.

Creative Platforms

All assigned experiments will be posted to online. These experiments will be geared toward maximum flexibility at a minimum of technical mastery. Frame your works in conversation with the aesthetic and poetic forms of the course. Where required, links must be posted to the course website on Wednesdays by 11:59pm so that peers might review the work before course sessions.
Grading Policy
Operating as a workshop, the primary grading consideration will be lively and timely engagement with the weekly writing assignments within a group format. This includes writing and conversations that will occur not only in the classroom but also via engagements online. The final grade breakdown will divvy up neatly along these lines:
E-Lit Wiki Posts:

Participation/Experiments:

Midterm project:

Final paper/project:

20%

20%

25%

35%
Midterm Project
Taking the history of electronic literature into account, the midterm will be a hypertextual essay on using Twine, Neocities, Newhive, or a similar platform. Essay prompts will be distributed one week in advance of the due date TBA.
Final Projects
At the conclusion of this course, each student will have the choice of an essay (~10 pages) or a final creative project (of equivalent depth) with a 500 word author's statement. In either instance, the final may inhabit any form, format, or platform discussed in the course. All final projects must first be approved by me over email or in conversation, and must be completed by December 12 at 11:59pm: hard deadline!
Plagiarism
Much of what we do in this class will constitute some form of fair use, appropriation, or reframing activity. This will be a frequent topic of conversation. In general, smart use is obvious while dumb plagiarism is malicious. Avoid dumb plagiarism. We will cover this topic extensively on our first meeting and subsequent meetings.
Late Policy
All required creative experiments and wiki posts are due before the following class session. This is absolutely necessary so that we all have a chance to review your work before class discussion. For this reason, late work receives half credit.
Attendance Policy
Unexcused absences will cut into your percentages. If you must miss a class, it is your responsibility to make arrangements with me both before and after the absence.
Accessibility
If you require academic adjustments based on a disability, you must register with the Center for Accessible Education (CAE). CAE will assess your needs, determine reasonable academic adjustments, and work with you to implement academic adjustments. When possible, students with disabilities requiring academic adjustments should contact the CAE within the first two weeks of each term as reasonable notice is needed to coordinate accommodations. You may contact the CAE at (310) 825-1501, go to the CAE office at A255 Murphy Hall, or access the CAE website at www.cae.ucla.edu.
Technology
Laptops or commensurate devices will be necessary for many course-based tasks. For others, they will be banned.
Part I: E-Lit: What Is It?
| | | | |
| --- | --- | --- | --- |
| Date | Session | Critical Readings | Creative Works |
Experiment: E-Lit Exquisite Corpse Instagram collaborative exercise and introductions.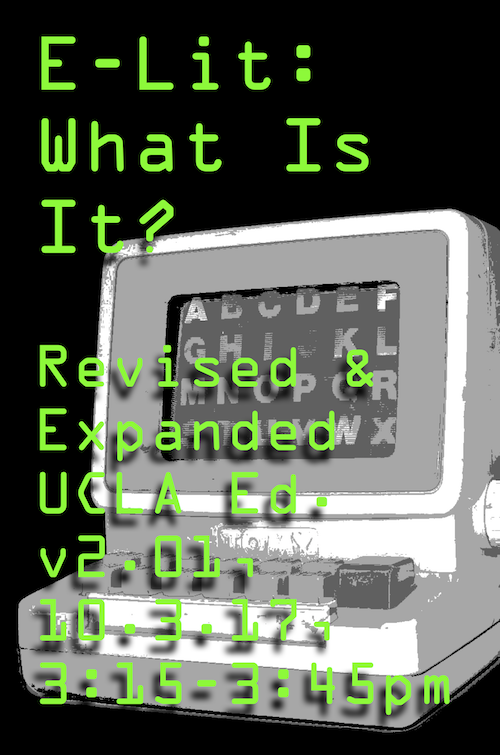 E-Lit Wiki Introduction: Before class, create an account for our course wiki here (a pseudonymous user name is encouraged, unless you prefer to have your work publicly attributed). If new to wikis, review MediaWiki help for navigating, editing, and making a new page.
In-Class Screenings: A Minecraft Library of Babel + Keiwan, Library of Babel 3D + Raymond Queneau, Cent mille milliards de poèmes (online version)
In-Class Experiment: Bring laptops or tablets with Google Docs access. Group publication exercise: E-Lit: What Is It? Revised & Expanded UCLA Edition, v2.01. (PDF or Buy online at Lulu.)
3. Oct 5

Code Poetry

& Fiction

Christopher Funkhouser, "Digital Poetry: A Look at Generative, Visual, and Interconnected Possibilities in its First Four Decades" (2006)

Recommended: Taeyoon Choi, Poetic Computation: Reader, chapt. 01: "What Is Poetic About Computation?" (2017)

Judd Morrissey, "The Jew's Daughter" (2000)

Nick Montfort, Reimplementations (2014-17):

Christopher Strachey "Love Letters" (1952);

Theo Lutz, "Stochastic Texts" (1959);

Victor H. Yngve, "Random Sentences" (1961);

Brion Gysin & Ian Sommerville, "Permutation Poems" (1960s);

Alison Knowles & James Tenney, "A House of Dust" (1967);

Michal Murin, "Random Poetry" (1989)
Wiki Post: Create one new page with reference to any of this week's materials, linked to any previous page. The page must feature a minimum of 200 words — and may feature a fair amount of citation from any source related to course materials. Page due Wednesday at 11:59pm.
In-class Screening: Netwurker Mez & Shane Hinton "_:terror(aw)ed patches:_A Google Wave(let) Transformation" (2009)
Wiki Post: Create one new page with reference to any of this week's materials, linked to any previous page, excepting the front page. The page must feature a minimum of 200 words — due Monday at 11:59pm.
In-Class: Yung Jake, e.m-bed.de/d/ (2012) (Youtube link) + emoji.ink & tig.ht
5. Oct 12

Deformance & Remediation

Mark Sample, "Notes Toward a Deformed Humanties" (2012)

Jay Bolter and Richard Grusin, Remediation, Part 1: "Immediacy, Hypermediacy, Remediation" (1999)

Optional: Lisa Samuels and Jerome McGann, "Deformance and Interpretation" (1999)

Optional: Laynie Browne and Caroline Bergvall, intro to I'll Drown My Book: Conceptual Writing by Women (2012)

Wilmer Wilson IV, Keef-Wulf (2015)

Holly Melgard, The Making of The Americans (2012)

Joey Yearous-Algozin, Zero Dark 30 Pt. Font (2013)

Ben Fry, The Preservation of Favoured Traces (2009)

@Homer_Marijuana (2014) (On Vice)

Bonus: Cory Arcangel, Working on My Novel (2014)
Experiment: Collective Twitter experiment: in a groups of 3-4, create a conceptual Twitter account with at least twenty posts due Wednesday at 11:59pm (and ongoing). Post to the wiki here.
In-Class Discussion: Christian Marclay, The Clock (Various bootlegs) (2010) + Jennifer & Kevin McCoy, Every Shot, Every Episode (2001) (installation) + Vito Acconci, Following Piece (1969) (See also, 2.0 version #fp20)
6. Oct 17

Wreading & Recievables

Charles Bernstein, "Wreading" essays from Attack of the Difficult Poems (2011)

Craig Saper, "Receivable Art and Poetry" from Networked Art (2001)

Recommended Poetic Resource: Bernstein, Online Syllabi

Optional: Emily Carr, "The Wreading Experiment" (2010)

Yedda Morrison, Darkness (chapter 1) (2008)

Adrian Piper, My Calling (Cards) #1 and #2; [Optional, see Adrian Piper Reflections 1967-1987]

John Giorno + Various Authors, Dial-a-Poem (1969) (Also, full albums available here)

Optional: Steve McLaughlin and Jim Carpenter, ed., Issue 1 (and for context, Issue 2)
Wiki Post: Create one new page with reference to any of this week's materials, linked to any previous page. The page must feature a minimum of 200 words — due Monday at 11:59pm.
In-Class Viewing: Sophia Le Fraga, W8ING 4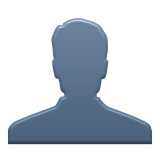 (2014)
7. Oct 19

Twine &

(Non-?)Ergodic Literature

N. Katherine Hayles, Writing Machines, Preface and Chapter 2 "Material Metaphors, Technotexts, and Media-Specific Analysis" (2002)

Highly Recommended: Espen Aarseth, Cybertext: Perspectives on Ergodic Literature, "Introduction: Ergodic Literature" (1997)

Porptentine Charity Heartscape, Various Games (2012-2017): see How to Speak Atlantean, With Those We Love Alive, & Psycho Nymph Exile (see interview)

Anna Antropy, Various Games and Twine tutorial (see Twinery)

Andrew Hussie, Homestuck (2009-16) (About, Wiki) (Via Auxiliatrix, see: "Is Homestuck the Ulysses of the Internet?" & "Homestuck Is the First Great Work of Internet Fiction"

Optional convo: Emily Short, "Galatea" (2001) (cheats)

Bonus: Jon Bois, 17776 (2017) (+Q&A)
Experiment and Planning: Produce a work of "receivable" or "network" literature for a single viewer, by creating a wreading of a work from this course. Then, don't tell anyone else about it. Begin to think toward your midterm experiment (as discussed in class).
In-Class Playthrough: Anna Antropy, Queers in Love At the End of The World (2013)
Wiki Post: Create one new page with reference to any of this week's materials, linked to any previous page. The page must feature a minimum of 200 words — due Monday at 11:59pm.
In-Class Screening: Fatima Al Qadiri & Tabor Robak, Vatican Vibes (2011)
Part II: CTRL_ALT_SYL
9. Oct 26

IRL Meeting Cancelled

—

URL Meeting

Read/explore the Alt Syllabus.

During class time, log on to tlk.io/elit to discuss Alt Syllabus finds & structure with your peers.

Test potential platforms, consider: NewHive, Tumblr, Twine (+NeoCities), Facebook, Myspace, Instagram, Wordpress.com, Gigapixel/Storymap, (advanced: MediaWiki, WordPress.org, Stencyl, Unity), or explore: email me to add options!

See also: Brutalist Websites
Experiment: Post (at least) one critical reading + one creative work of "electronic literature" (or as many as you like!) of interest to the course wiki page Alt Syllabus — be sure to structure the page for legibility as you post — due Wednesday at 11:59pm.
10. Oct 31

CTRL

ALT

SYL

Nº1

Read at least one selected critical work posted by a peer to the ALT SYLLABUS.

Optional: See also, dss ~ Evil-Dead-Haunted-Zombie Media readings on the ALT SYL.

Read/explore/play at least three selected creative works posted by a peer to the ALT SYLLABUS.

" "

" "
Wiki Post: Create one new page with reference to any of the CTRL_ALT_SYL materials posted by one of your peers — that you haven't encountered before — linked to any previous page. The page may any length — due Tuesday at noon.
In Class Screening: Jackie Quinn, Cardboard Jackie (2016), Delano, One-Time Secret (2012)
Experiment: Develop your midterm wreading — create at minimum a rough prototype, first draft, or sketch by Wednesday at 11:59pm — send your work to a peer or friend for review.
In Class Screening: Steyerl, "How Not to Be Seen: A Fucking Didactic .MOV File" (2013)
Midterm Due, Nov. 5 at 11:59pm
A creative-critical wreading of any work featured on this syllabus
(or via links from any work on the syllabus)
in any format that is not an essay,
linked in the wiki.
One creative work &five critical works (or vice versa) must be featured.
Midterms will be evaluated in terms of:
Creativity,
Transformation,
Critical Commentary,
Original Contribution to E-Lit.
Part III: Post-Lit: What Is It?
12. Nov 7

Intro to the Post-Digital

Lit

or

E-Lit?

Florian Cramer, "Post-Digital Writing" (2012), "Post-Digital Aesthetics" (2013), "What is 'Post-Digital'?" (2014)

Megan Liberty, "Reading as Art & Publishing as Artistic Practice" (2017)

Optional: Alessandro Ludovico, Post-Digital Print (see ch. 1: "The death of paper (which never happened)") (2012)

Optional: Michael Hessel-Mial, "The Poetry of Digital Life" (2016)

Silvio Lorusso, In Defense of Poor Media (2015)

Nora Caplan-Bricker, "The Instagram Hoax That Became An Art World Sensation" (2016)

Explore: Lorusso, Post-Digital Publishing Archive (2017)

Explore: Mashinka Firunts & Snelson, Post-Digital Poetry (2014)
Wiki Post: Add three images to three seperate wiki pages with reference to any of the materials on the syllabus thus far — be sure to add captions. For standard Wiki float, use or edit: [[File:File.png|200px|thumb|right|alt text]] Due Monday at 11:59pm.
In Class Screening: Various E-Lit Wreadings (2017)
Experiment: Post-digital reading library: 5 group-specific books addressing the post-digital. Links to PDFs and Lulu posted to wiki. Due Wednesday at 11:59pm.
In Class Screening: Peter Greenlees (Fogsdown) + DJ Rashad, "She a go" (2014)
Experiment: Produce a non-book post-digital object on Zazzle, Cafepress, Print All Over Me, Aluminyze, or similar. Use text or imagery from any work featured in the syllabi or, perferably, your own creative production for the course (for example, your midterm, instagram contributions, etc.). Order your object! Post a link & image to the wiki by Monday at 11:59pm.
In Class Screening: Shelley Jackson, Ineradicable Stain (Skin) (2003-?) & Snow (2014-?) + Hannah Black, My Bodies (2013)
Collective Experiment: Capture images of language in the environment - one word at a time - to create a multiple-image story or poem. Post your set of images (up to ten at a time) on the UCLA ELIT instagram. You may make multiple posts. Due Wednesday at 11:59pm.
In Class Experiment: Collective generation of a Post~Lit Manifesto.
Experiment: Private Email Video Reading Network. 1) Explore the critical reading anthologies above; 2) Select a few essays that interest you and read them; 3) Record a video of yourself reading (on or off-screen) a passage from your selection, of any length and in any format; 4) Send your video to the class email reply thread. Due Monday at 11:59pm.
In Class Screenings: Tracie Morris, Africa(n) (2008) + Mónica Savirón, Broken Tongue (2013) + Oliver Laric, Versions (2010) + Mike Ruiz, Versions Freestyle (2011) + Claudia Rankine and John Lucas, Situation 7 (2015) + Rindon Johnson, Away With You (2017)
Wiki Post: Create one new page with reference to any materials you plan to address in your final project or essay, linked to any previous page. The page may feature any number of words and/or images — due Monday at 11:59pm.
In Class Screening: Kevin B. Lee, Transformers: The Premake (a desktop documentary) (2014)
Finals Wiki Post: Create one new page with a minimum of 200 words and an image describing your project — in terms of form, materials, and relation to course content — posted on a new page to the Wiki. Due Wednesday at 11:59pm.
In Class Playthrough: Alejandro Miguel Justino Crawford, Egress (2013)
Part V: Final Projects
| | | | |
| --- | --- | --- | --- |
| 19. Dec 5 | Conclusions | Speed Presentations of Final Projects | |
Project Presentation Slides: Compose 5 slides (in Powerpoint or Keynote) that present your final project, contextualize it within the course material, and demonstrate (or speculate upon) what it will look like once complete. Save your slides to PDF and attached in an email to the group thread. Prepare to speak for 2-3 minutes in class.
Slides due Monday at 11:59pm.
20. Dec 7

Cancelled

Due to

Fire

Email Presentations of Final Project
Final Due, Dec. 15 at 11:59pm
A critical/creative work of post-lit SCHOLARSHIP
in any format — including the essay.
Length, depth, scope, and scale will vary based on form,
the final should be equal or equivalent
to a 10-page research paper
or 6-page PDF manifesto.
The project must demonstrate substantial interface
with
course content.
Finals will be evaluated in terms of:
Creativity,
Originality, and
Scholarly contribution
to
Post~Lit practices.